Local History Index - Index to Wisconsin Brewery and Related Articles
Refrigerator Cars (Reefers) History
by Mike Reilly, copyright 1995
revised 01/15/2000

This history report is an attempt to list the important events in the development of refrigerator cars, their association with the brewing industry, and how "billboard" advertising came into use on them. An appendix is provided listing some of the known toy model freight cars with beer/liquor/tobacco billboard advertising, with an emphasis on Schlitz Brewery reefers. Why might you ask? Over the last several years various consumer and rights advocate groups have been pressuring toy manufacturers to remove from their products any display of beer, liquor, and tobacco products. As a result, these types of toys are becoming highly collectible and of course harder to find. You can jump to a Toy Reefer Listing that depicts mainly Schlitz reefers available.
Thank you,
Mike Reilly, copyright 1995
---

Known as "reefers", these cars originated with the first use of ice in shipping milk and butter, and possibly other perishable foods, by rail from upstate New York to cities and towns. The Boston Traveler of June 15, 1842, had a news item headed "Freaks in Railroad Transportation" that may have been the first printed reference to this subject:

We understand that the Western Railroad (of Massachusetts) are about preparing refrigerator cars in which fresh beef, pork ... and other fresh meat can, by a moderate quantity of ice , be kept in perfect order in the heat of summer and in which (in winter) they can be kept from freezing; thereby, in either case, adding much to the value of the article when carried to market.... These refrigerator cars will be used for the like advantageous purpose to carry eggs, butter... all berries and fruits.

Whether or not those cars were actually built is not recorded. The first reefer known to have been put into service began operating in June 1851 on the Northern Railroad of New York (later part of the Rutland), less than a year after the road had been opened between Ogdenburg and Rouses Point on Lake Champlain. According to a St. Louis Republic reprint from an unidentified New England newspaper, the "icebox on wheels" was designed by a Mr. Wilder, one of the road's employees, for the use of farmers around Ogdenburg who made butter but previously had not been able to ship it except in cold weather.

Early "reefers" were of all wood construction and about 36' long. Ice bunkers were built into each end of the car and filled through hatches on the car roof. These reefers could only travel about 250 to 400 miles before they would need re-icing. Salt was sometimes placed in the bunkers to make the ice melt faster and lower the temperature of the load. Railroads built huge icing platforms and ice storage houses at major terminals and other strategic locations to quickly service cars.

Ice reefers with their telltale roof hatches, enjoyed a long life because of continual improvements in their design. Originally the cars relied on gravity air flow (cold air stayed near the bottom of the car) to keep loads cool. Loads were hung from racks or stacked on pallets (keged beer was set on the car floor and bottled beer in wooded crates were stacked) and the cool air circulated around the load. Later cars used mechanical or electrical fans to force cold air around the load.

Improvements in such equipment were designed and patented in the 1860's by W.A. Chandler, head of Union Star Line, under the aegis of the Pennsylvania Railroad, and by J.B. Sutherland and D.W. Davis, both of Detroit.

By 1852 the breweries in Milwaukee were making regular shipments of beer by railroad but only to inland destinations since the only railway systems built until 1855 were those to inland areas to avoid conflict with the Great Lakes shipping interests.

In 1855, when the Chicago and Northwestern Railway to Milwaukee was completed, the brewers of Milwaukee were given an enormous boost in out of town shipping. It is not known whether the brewers iced their shipments or only made shipments when cold weather conditions permitted it, the pasteurization process had not yet been introduced nor discovered at this time.

In 1857, Gustaves Franklin Swift, A Chicago packer, set up 10 reefers to ship dressed meat. Refrigerator cars also brought an end to the famous cattle drives of the "Old West". Instead of driving cattle long distances to a rail head or packing plant, the expanded rail systems and refrigerator cars permitted slaughter houses and packing plants to be located near the large ranches of the South and Southwest.
From John Notz Jr. 1/15/2000 comes this addition - "In unrelated reading last night, in a book about Chicago cemeteries that is considered to be accurate, albeit a bit flippant, it says that, in 1875, Philip D. Armour moved his Milwaukee-based business to Chicago, where he began shipping fresh meat across the country in refrigerated train cars."

In 1876 refrigerated freight cars were shown at the Centennial Exposition in Philadelphia.

The brewery of Anheuser & Co. of St. Louis was reportedly using 40 reefers in 1877. During the same year the "Ayer Rubber Car" of much lighter weight than its predecessors made its debut.

1878 - Empty barrels from New Orleans and Vicksburg to Chicago were running 40 cents per hundred and from Memphis, 35 cents. Also in 1878, the Illinois Central Railroad Co. proposed to Pabst that to ship a carload of beer from St. Louis or Cincinnati to New Orleans to only use 900 lbs. of ice and straw. They went on to say that the New Orleans freight cars were considered inferior to theirs and it was thought that 2,000 lbs. versus the 6,8, or 10 thousand lbs. would be sufficient. Since no further discussion was made on the subject, it evidently worked.

In 1879 the Chicago and Alton Railway delivered Pabst beer kegs to Kansas City and picked up empties for the cost of $1 a keg round trip.

From 1880 to about 1910, the development of a national web of railroads plus the great technological advances within the brewing industry itself made it feasible for individual brewers to look for customers far afield. This marked the rise of the national or shipping brewer.

The refrigerator car was a major factor in the development of large farming areas in remote regions of the United States. The citrus and vegetable industries of the Southwest were largely developed after refrigerated cars were invented.

In the 1880's during warm weather, to make Southern shipments, ice to refrigerate freight cars cost more than 10 cents a barrel.

In 1884 to ship full barrels from Milwaukee to St. Paul it cost 15 cents per barrel, 18 3/4 cents to Pittsburgh, 80 cents to Eau Claire or Stevens Point, and an entire $1 to ship one to Ashland, Wisconsin.

Shipping partial loads was cost prohibitive, so 90 barrels a carload had to be shipped at one time and any excess over what the local retailers needed had to be stored in company owned icehouses. Attempts were made to ship carload shipments without company storage.

Where the brewery branch operation was far enough away so that freight costs on full cases of bottles and returned empties was high, it was usually cheaper to ship barrels and bottle locally.

In the Rocky Mountain areas and in foreign countries it was too costly to return empty bottles or kegs, so bottled beer was shipped; since it could be priced to stand the loss better than keg, and simply charged off. It is claimed that bottled beer is an offshoot of the extensive railway system.

Joseph Schlitz Brewing Co. brings suit against the Southern Pacific Railway for price discrimination and wins in 1893.
See a picture of OLD "3765".

During 1895, Schlitz and Pabst complete the organization of the Mississippi and Northern Railroad Co. with Gustave Pabst, president, Alfred Uihlein as vice-president, and E.L. Philipps as secretary.

Anheuser-Busch sets up the Manufacturer's Railway Company.


The Union Refrigerator Transit Company is set up by the Joseph Schlitz Brewing Co. to own and operate a line of refrigerated railway cars. Joseph Uihlein Sr. is later made president of the transit line while still a freshman at Stanford University ( his father August had told him, " Joe, you're going to be 2,300 miles from Milwaukee where the Department of Justice can't reach you quick".). Joseph relates that every time one of the cars went west of the Mississippi the company got a rebate of 1 1/2 cents a mile; when the car went east of the River it got 1 1/4 cents. The government began to step in to prevent the rebating. At one point when President Theodore Roosevelt visited Milwaukee, Joseph was told by him that he was going to put him in jail for rebating; two days later Joseph resigned as president and Emanual Lorenz Philipps (later governor of Wisconsin) took over as president.

When Admiral Dewey captured Manila during the Spanish-American War in 1898, the Joseph Schlitz Brewing Co. sent whole train carloads of beer to the Philippines for the thirsty servicemen. The refrigerated freight cars had banners and signs advertising Schlitz beer on them all the way to the West coast. Possibly some of the earliest "billboard" advertising done on boxcars.

1903 - Virtual ending of rebates by Elkins Anti rebate Act.

1903 - 1905, the Milwaukee Refrigeration Transit Company, a Pabst subsidiary, headed by Fred Pabst (the son) is set up to make favorable railroad arrangements without incurring the penalties of rebating.

1905 - 1906, Marsh Refrigerator Service Co. is successor to the Milwaukee Refrigerator Transit Co. because the Courts found it to be a violation of the law.

1910 - 1925 type car : 40 foot Double sheathed all wood refrigerator car with wood ends, built with vertical brake staff and arch bar trucks. Many of these cars were painted with the "billboard" advertising and slogans of private companies.

August 12, 1925 - Pabst enters into a $40,000 agreement with Street Railways Advertising Co. of New York City for a one year display on streetcars of New York and Brooklyn for Pabst-ett.

1925 - 1950 type car: 40 foot double sheathed wood refrigerator with dreadnought or stamped steel ends to strengthen the body. "Double sheathing" remained a prominent part of the construction to insure maximum insulating properties. Equipped with steel roofs and Bettendorf trucks, these "reefers" could seen be seen in the 1950's.
1930's - Brewery (and other) trademarks on the reefers were overpainted with strictly functional lettering and reporting marks. Not until 1966 did trademarks (at least for Schlitz) reappear on reefers. Additional comment from John Notz Jr. - You attribute the period for the removal of logos from "reefers" to the 1930's; I would have expected that to have started with Prohibition (1919). However, I can see that the brewery shippers would, for security reasons, wish to ship anonymously, for the reasons described in your story about intentional abuse in the car loading, switching and unloading processes.

1940 - 1960 type car: By the 1940's, new reefers were being built entirely of steel. Insulating techniques improved to the point where economical refrigeration could be accomplished using steel side plates in place of wood sheathing. Cars with steel roofs and sides were more durable and required fewer repairs.

Comments from a retired railroad engineer: When the beer train would pull up along side a Milwaukee brewery's shipping dock platform, many of the crew would go into the brewery and come out with cases of beer. These were placed in whatever convenient places to be found on the train. When the train returned to the station, the crew members would pull their cars up along the train and transfer their goods. (Author's note: Don't know if these freebie cases were condoned by the breweries or the railroad management.)
It wasn't uncommon to see a reefer car leaking foamy beer after it was backed into too hard while coupling. Sometimes this hard striking was intentional to break open the doorway of the car, at which time the culprits would begin unloading whatever beer they could get away with. This was usually done when the train yard detectives were on the other side of the yard checking car door seals.

In 1958, the first mechanical reefers (utilizing diesel powered refrigeration units) went into service and by 1971, the "ice age" came to a chilling end.

1960 - 1970 type car: the "plug" door was introduced in the 1960's as an option that provided a larger door to ease loading and unloading of certain commodities. These tight-fitting doors were better insulated and could keep the car at a more even temperature.
1966 - See a Special Schlitz Car with trademark.

For Sale - Art Griffin, 2734 Floral Trail, Dept. Schlitz, Michigan City, IN. 46360. Catalogs: Freight Car photos (2,000) 1880-1930's, $5.00 ea. includes 8x10 sample. Building Decals & Posters all scales. 1,000 images (1890-1950's), $5.00, includes samples and photos, both model & prototype. Carsides Decals (250) developed from Builders photos, (1880-1930's), N to O scale, $2.00. Tele: 219-874-4865 & 219-874-3561, Hotline & leave message.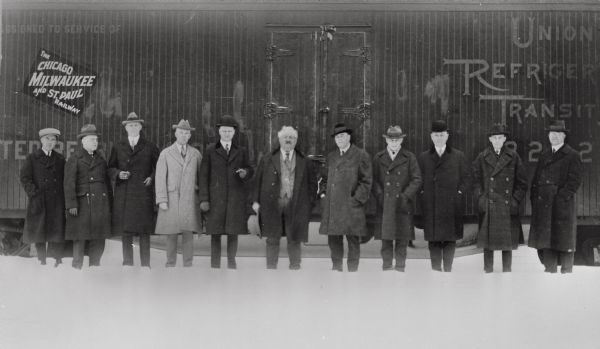 Union Refrigerator Transit Company officials pose in front of a railroad car in the snow. Emmanuel Philipp is in the center of the line.


BIBLIOGRAPHY

40' Refrigerator Car Prototype Information, Wm. K. Walthers Inc. , Pamphlet insert in car box, 1985.

Encyclopedia of North American Railroading: 150 Years of Railroading in the United States and Canada, by Freeman Hubbard, McGraw-Hill, 1981.

The Pabst Brewing Company: The History of an American Business, by Thomas C. Cochrane, Ph.D., Greenwood Press, 1975 reprint.

Brewed in America: The History of Beer and Ale in the United States, by Stanley Baron, Little, Brown and Company, 1962.

Greenberg's Price Guide to Lionel Trains, 1945 - 1983, by Bruce C. Greenberg, Ph.D., Greenberg Publishing Company, 1983.

The Uihleins of Milwaukee, by Robert W. Wells, Milwaukee Journal, April 30, 1972.